Adding products by users Pro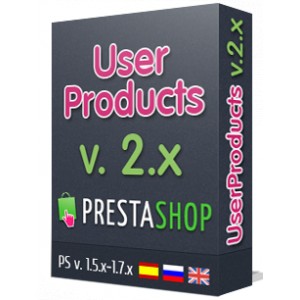 Recently developed!
Description
Short description
The module known also as User Products PRO is designed to lay out both digital products (i.e., e-books, files, scripts, soft) and standard goods by shop customers on PrestaShop. Once it's installed in the Customer account item "My seller account" appears.
Benefits for customers
With this module, any customer can become a seller and offer his/her products to sell in your store:
The module offers the user almost all the main functionality of the BackOffice for adding goods;
Ability to add both VIRTUAL and STANDARD goods for sale;
Extensive product management: adding, deleting, editing;
Ability to add characteristics (pre-installed in the store) and combinations for their goods;
Complete multilanguage both of module interface and input of products description;
Adding an unlimited number of product images without page reloading;
The seller has the ability to set tax rules (pre-installed in the store) for their goods;
The seller has the ability to set methods of delivery (pre-installed in the store) of their goods;
The seller can fill his profile (title + text + logo) in the shop;
Total sales statistics (number of sales, amount of each position);
Detailed statistics on transactions (charges for sale, withdrawal);
Notification of purchase/return of author products to the corresponding author email;
Earned money can be spent in the shop (requires optional module) or requested for withdrawal.
Benefits for merchants
The module is perfect for creating a store-flea, where products are added by shop customers themselves! Features:
Full multicurrency - all accruals are kept in the store currency by default, for the rest recalculation is made at the current rate;
Sweeping settings of products moderation (such as checking when adding and updating, item disabling instead of deleting it);
The possibility of limiting the type of added products - "virtual" or "standard";
Flexible adjustment of product adding by certain groups of store customers;
Setting of individual store commission percent for each customer group;
Ability to customize the role of the seller: work as a manufacturer, supplier or general customer;
Royalties to be calculated as net of tax, and without them;
The administrator itself defines the order statuses under which there is a charge royalties for sale;
The administrator defines the order statuses under which a author bonus is removed (in case of refund);
Detailed statistics on operations of sellers (charge for sales, removes for return, withdrawal of funds);
The administrator notifications about products adding/updating and withdrawal request to the corresponding email;
Authors of product can spend earned money for shopping in the store - i.e. turnover of the shop increases, the money remains in the system (requires optional module).
Installation
The procedure of module installation is standard!
Features
By means of User products PRO module customers themselves become sellers of goods in your store - i.e. they have the opportunity to add their items to sell them in your store. Their earnings can be withdrawn from the store, or spent inside it on goods purchase. Great for creating of shops like flea market!
How it works:
After module installing in customer's account the item "My seller account" appears. Customers can add their physical and virtual products to sell them in your store, add pictures and files, monitor sales statistics, order withdrawal of earned money or spend it on shopping in your store (requires optional module).
Other
IMPORTANT! The module can be interfaced with the User internal balance UserBalance module. The functional module expands this way: earned rewards can not only be withdrawn on request, but also spent on shopping in the store as a regular method of payment. Extended statistics (charging the author's bonus, canceling the bonus, withdrawal of bonuses, payment of orders in the store) is available to both sellers and the administrator.
Demonstration
Website demo (v.2.0.8)
Login: demo@demo.com
Pass: demodemo
Data sheet
PrestaShop compatibility:

1.5, 1.6, 1.7

Installation:

normal

Uses PrestaShop classes override system:

no

Core modifications:

no

Including documentation:

yes

Module version:

2.0.8

License:

Proprietary license without copy-protection
There are no comments for this moment.